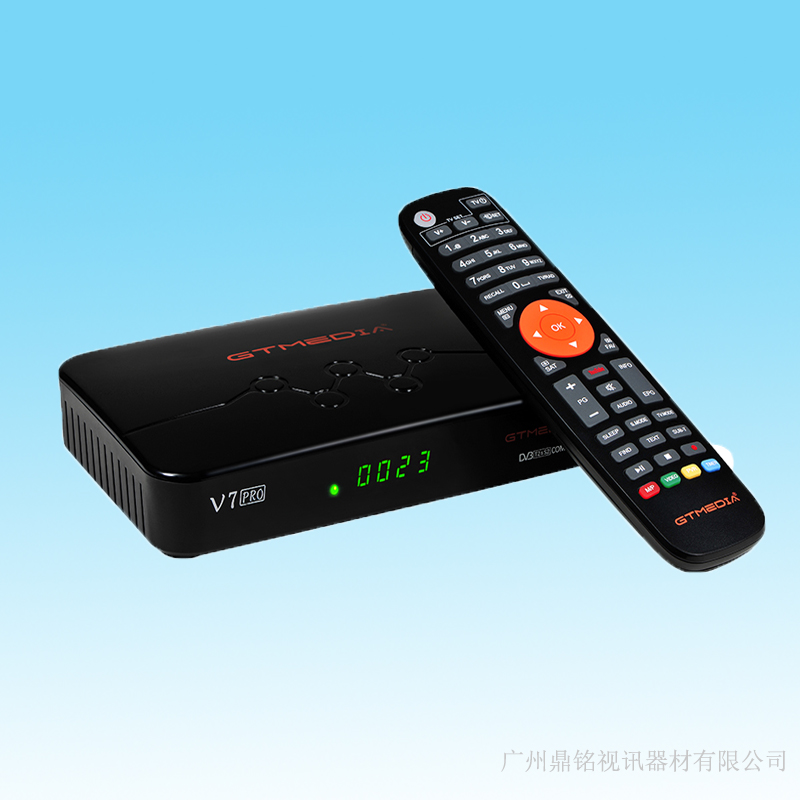 Gstar V7 PRODVB-S2X+T2播放接收器 支持全速 USB wifi CA
更新:2022/3/5 16:44:46 点击:
产品品牌

Gstar

产品型号

Gstar V7 PRODVB-S2X+T2

产品描述

...
产品介绍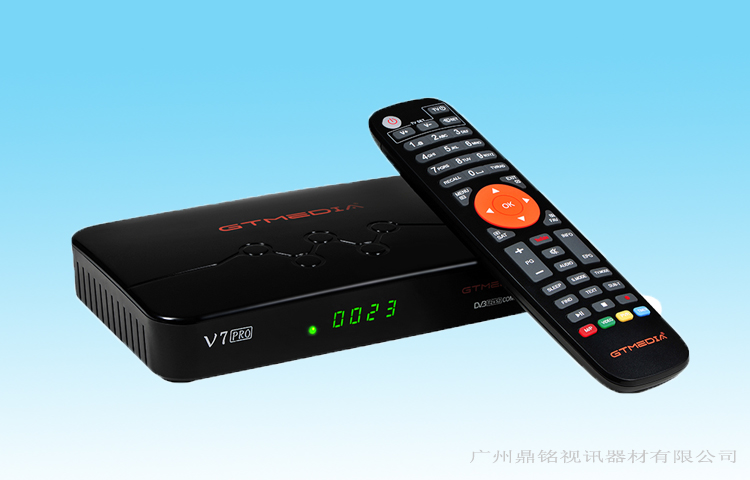 产品名称:Gstar V7 PRODVB-S2X+T2播放接收器 支持全速 USB wifi CA
产品型号:Gstar V7 Pro
产品特点:
1. Support DVB-S/S2/S2X+T/T2, VCM/ACM/multi-stream/T2MI, Multi-PLP, HEVC main 10 profile(10bit), AVS+
2. Support BISS auto roll, Full PowerVu, DRE &Biss key;
3. Support CA card slot and multi-room
4. Support Albertis/Tivusat/BBC Satback
5. Support Unicable, DiSEqC1.0/1.1/1.2/USALS Motor fully support;
6.Support Full speed USB 3/4G dongle and USB wifi dongle,
7.Support Online Movie (Youtube,Youporn);
8.Support CCCAM, NEWCAM, MGCAM;
9.Technical support website : www.freesat.cn
Note:We reserve the right to change the design and OEM/ODM supported.
Main Chip Sets

CPU frequency

770MHz Dual Core HEVC 10Bit

Flash Memory

64MB SPI

Flash

DDR2 Memory

1G bit RAM

TS Demux

Demultiplexer

ISO/IEC 13818-1

Input Bit Rate

Max 100Mbit/s

Video Decode

Video Decode

HEVC main profile@level 4.1 and main10 profile@L4.1,High tier
MPEG-2 MP@ML
H.264 BP,MP&HP@L3/L4.1/L4.2
AVS Jizhun profile and broadcast profile
MPEG-4 SP profile, advanced simple profile@L5
VC1 SP@ML, MP@HL, AP@L0-3
H263 baseline profile
JPEG decoder

PAL/NTSC

Automatic PAL/NTSC conversion

Aspect Ratio

Auto, 16:9 Pillar box, 4:3 Pan & Scan, 4:3 Letter Box

Video effects

Standard, Default, Vivid.

Video Resolution

1080P, 1080I, 720P, 576P, 480P, 576I, 480I

HDMI Color Space

RGB, YUV422, YUV444, Auto

Audio Decode

Audio Decode

MPEG-1/2 Layer 1/2/3, MPEG-2/4 LC-AAC, MPEG-4 HE-AAC,
Dolby AC3/AC3+, DRA CH/5.1CH

Sound Mode

LEFT/RIGHT/STEREO/MONO

Sampling Frequency

32KHz,44.1KHz,48KHz

Audio Out

LPCM Out, BS Out

Hardware specifications

RF TO TV

RF TO TV (CH11:209.5MHZ)

Panel display

4-digit LED display

LED Indicator

Power ON :Green; Standby :Red

Button

NC

Wifi

Support USB Wifi dongle (MTK7601/RT5370)

IR

Exit IR for 38KHz,Infra Remote control

Rear Panel

LNB IN

(Frequency Range950MHz to 2150MHz DVB-S/S2/S2X)

ANT IN

( IEC-type IEC169-2 Female DVB-T/T2 for 174-862M)

HD OUT

(

up to 1080P

)

AV OUT (3.5MM*18MM Jack/4-Pin:Red-White-Yellow-GND)

RF TO TV (CH11:209.5MHZ)

2*USB 2.0 HOST

RS232

CA card slot

Power (DC 12V/1.5A)

DVB-S/S2 Tuner specificati-ons

System standard

ETS 302 307

Frequency Range

950~2150MHz for DVB-S/S2/S2X baseband demodulator

LNB Power and Polarization

DiSEqC1.0/1.1/1.2/USALS Motor fully support,
Support Unicable, 13/18V DC @ 400mA MAX, 22KHz±0.4KHz(0.6V±0.2V)tone,Overload Protection

Input Level Range

-80dBm ~ -20dBm (average power)

Symbol Rates

DVB-S QPSK,DVB-S2 QPSK/8PSK/16APSK/32APSK,
DVB-S2X QPSK/8PSK/16APSK/32APSK/64APSK

Forward error correction rate

1/4,1/3,2/5,3/5,2/3,3/4,4/5,5/6,8/9,9/10

Carrier frequency acquisition range

±5MHz for symbol rates above 3 Msps and ±3MHz for the remaining symbol rates

Symbol Rates

2 ~ 90MSPS(Code Rate 1/2)

Code Rates

1/2,2/3,3/4,5/6,7/8 for DVB-S, 1/4,1/3,2/5,1/2,3/5,2/3,3/4,5/6
,8/9,9/10 for DVB-S2,
DVB-S2X Normal Frame and Short Frame FEC code rates

ANT. Connector

Connector:IEC TYPE F

Input Impedance:75 Ω

DVB-T/T2 Tuner specificati-ons

System standard

ETSIEN 302 755

Frequency Range

VHF: 174~230mhz, UHF: 470~862mhz for DVB-T/T2

H.265 10bit

Demodulation

COFDM,16QAM,64QAM,256QAM

Bandwidth model

6MHZ,7MHZ and 8MHZ

Country

England,Germany,Italy,France,Australia,Brazil,Chile,Argentina,Peru,UK,Russia,Colombia,Poland,Spanish,Sweden,Greek,Slovenia,Denmark,Finland,Georgia,Indonesia.Belgium...

FEC Code Rate

1/2, 3/5, 2/3, 3/4, 4/5, 5/6

FFT

2K and 8K

Guard interval

1/4, 19/256, 1/8, 19/128, 1/16, 1/32, 1/128

Input Signal level:

Min -80dbm max -20dbm (64QAM,8K 1/8,7/8)

Antenna Power

5V DC @ 120mA MAX

ANT. Connector

IEC 169-2, female.

Input Impedance:75 Ω

Sortware Features

Standard

Fully comply with DVB-S/S2 (SCPC and MCPC

receivable from C/Ku band satellite), DVB-T/T2, MPEG-2/4 H.265

Standard

Channels Number

6000+ channels TV and Radio programmable

Favorites

16

different favorite groups selection

OSD Language

OSD

Multi-language for options(English, Spanish, French, Russian, Portuguese, Polish, Indonesian, Arabic, Turkish, German, Italian, Persian, Thai)

EPG

Fully support to 7 days Electronic Program Guide(EPG)

OSD Color

16-bit OSD with anti-flickering

Channel Search

Supports NIT Search ,Automatic network search for newly added transponders

Channel Edit

Various channel editing function(favorite,move,lock,skip,
delete,rename,find,sort)

Parental Ctrl

Parental control for channels

Easy Menu

Plug and Play installation, with an easy to use Menu System

SoftUpgrade

Software upgrades through USB port and

RS232

upgrade.

Channel

Recording one channel, can view another channel under the same TP,Various channel editing function(favorite,move,lock,skip,delete,rename,find,sort)

Subtitle

support DVB EN300743 and EBU

Teletext

support DVB ETS300472 by VBI and OSD

Time Set

Time set by GMT offset automatic and manual,Summer Time support

Timer

5 event timers,off/Once/Daily/Weekly Mode

USB Decode

USB 2.0

Support FAT/FAT32/NTFS big capacity hard disk

PVR Option

USB 2.0 for PVR,TIMESHIFT,media files playback

Media Codec

TS,mkv, mp4, avi, flv, f4v, ts, m2ts, mov, 3gp

files

Audio Codec

WMA,MP3

Photo Codec

JPG, BMP, PNG, GIF

Packing

Product Dimension

180*125*30mm

Packaged Size

265*165*53MM

Carton Size

545*395*355CM

(28pcs/ctn)

Unit Weight

0.65 Kg with gift box

Carton Qty&Weight

28 pcs/Carton, 18.6 kgs

Accessories

Gift Box, Adapter, IR remote control, HDMI Cable, User Manual,Warranty card

Physicals

Power Supply

AC 100-250V,50Hz/60Hz

Power Consumption

10W in operation


≦

1 W Standby Power Mode

Temperature

Operation 0

~

+45

℃

; Storage -10~+60

℃

Humidity

20~90%, non-condensed
更多产品